In the hold:
Decolonising Cook in contemporary Australian art
Venue
Flinders University Museum of Art
Curated by Dr Ali Gumillya Baker and Fiona Salmon
When Lieutenant James Cook set sail on the first of three voyages to the South Seas in 1768, he carried with him secret orders from the British Admiralty to seek the Great South Land and take possession of it, 'in the Name of the King of Great Britain'. Nearly two years later, on 29 April 1770, he disembarked on Dharawal Country, also now known as Kurnell, on the southern headland of Botany Bay. In the grand narrative of white Australia, Cook's landing is heralded as the point at which the nation's history 'officially' begins: the moment of 'discovery' and first step towards the foundation of a Greater Britain in a Southern World.
Widely reproduced and circulated, this story of Cook is deeply etched in Australia's collective consciousness. Yet its neat and decisive formulation of the nation's genesis is problematic. On one hand, the continent had been long 'discovered' and inhabited by the time of Cook's arrival. On the other, the Eurocentric and linear narrative of Australian history that starts with Cook, smooths over the complexities of the nation's recent past, with the effect of silencing the perspectives and experiences of Aboriginal and Torres Strait Islander peoples before, during and after his expedition.
In the hold explores these themes by presenting works from the late twentieth century through to today, by visual artists – Indigenous and non-Indigenous – who challenge prevailing versions of Australian historiography. 
Museum open from 2 June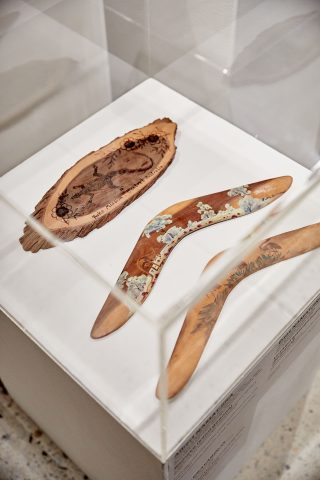 Related Article
Tarnanthi reflects on the legacies of Albert Namatjira and the Hermannsburg School