Roomful of Teeth explore all the 'colours' of the human voice
Soaking up an omnivorous mix of sounds from yodelling to hard rock, US vocal ensemble Roomful of Teeth are reshaping audience expectations of the human voice – just don't call them a choir.
"One of the first techniques we studied was yodelling, which happens in traditions all over the world, this break between registers," her says. "It's something that I wanted to start with, because it's so anathema to classical singers – classical singers are taught to sing as smoothly as possible from the top to the bottom of their range. That's one of the things that makes classical singing so impressive, when they can do that really well.
"But I also love the sound of the voice breaking intentionally, or sometimes unintentionally, and that difference in colour. We have pieces where a composer has written for three or four singers to go from chest voice to head voice, or chest to falsetto, at the same time, but to different notes. So it's almost like writing for a bunch of brass players to put in their mutes at the same time or something.
"You get these exciting colour possibilities that composers can take advantage. I don't know if it's changed but we've become more seasoned in this multi-colour flexible approach to the voice; what especially interests us is the grey areas, the sounds that individual singers can find that are not necessarily a throating sound, and not necessarily a classical sound, but something that person has found – an in-between – that they wouldn't have been able to find without a teacher."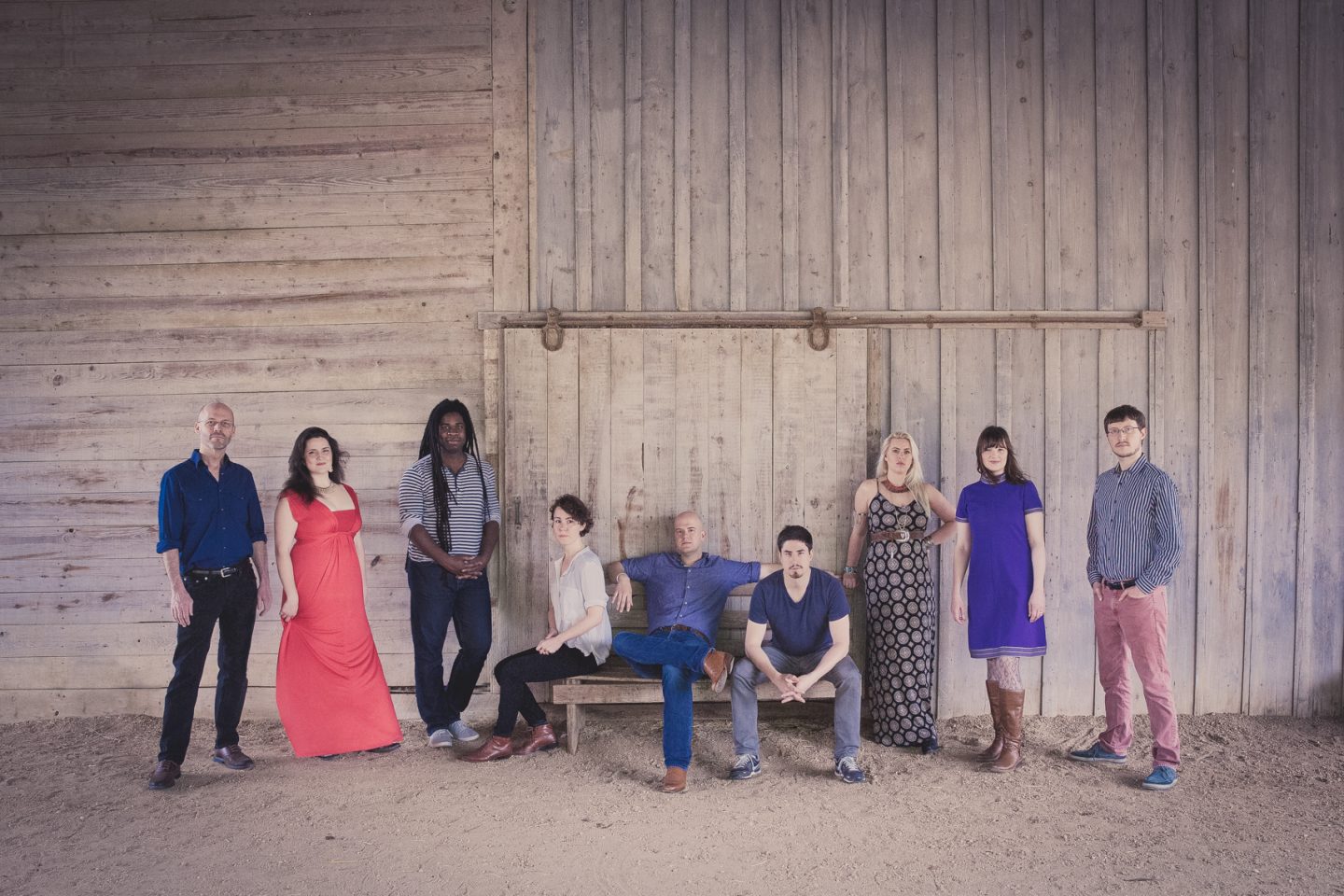 Inevitably this kind of approach invites questions of cultural ownership and appropriation, a necessary and ongoing conversation currently playing out across fiction, art and music. Indeed, a 2019 New Yorker profile helped galvanise criticism from indigenous performers for the group's use of Inuit and Tuvan throat singing techniques. In the wake of such critiques, Wells is particularly mindful of acknowledging the role of the group's teachers, and the group's efforts to avoid sounding like a jukebox of 'exoticised' pastiches from around the globe.
"Of course none of [these techniques] are new, that's something we have to continually remind ourselves and people we talk to; this is our experience and it's easy to feel like we're in a cafeteria tasting and sampling. [But] it's not how I think about it; it's not how the group experiences it.
"One of the most mind-blowing singing traditions that we've learned about that nobody in the group was aware of to my knowledge was Korean Pansori, which is this classical style that has existed for a number of centuries. It's such a reflection of that culture, and it brings a kind of theatricality to pathos and some of the guttural and rougher sounds of the voice, but they're deemed as beautiful or expressive, and when you hear these master Pansori singers sing, it's such a powerful thing."
In their exposure to to such sounds and traditions, the group hope to shake the expectations of what a group of singers can make together, for its members, the composers they work with and its audiences.
"Although in some ways we're a vocal or chamber choir, but because the group all sings as individuals, they're all individually mic'd, we always sing amplified and we perform our own music, we don't categorise ourselves as a 'choir'. Just because it implies a kind of homogenous sound, a desire to blend and a kind of smoothness, politeness, formality.
"Maybe we're just a different kind of choir."
Roomful of Teeth will perform as part of Adelaide Festival's Composer & Citizen: Chamber Landscapes series at Ukaria

7 March
Adelaide Festival:
Roomful of Teeth
Walter is a writer, editor and broadcaster living on Kaurna Country.
Get the latest from The Adelaide Review in your inbox
Get the latest from The Adelaide Review in your inbox