Review:
WOMADelaide 2020 Highlights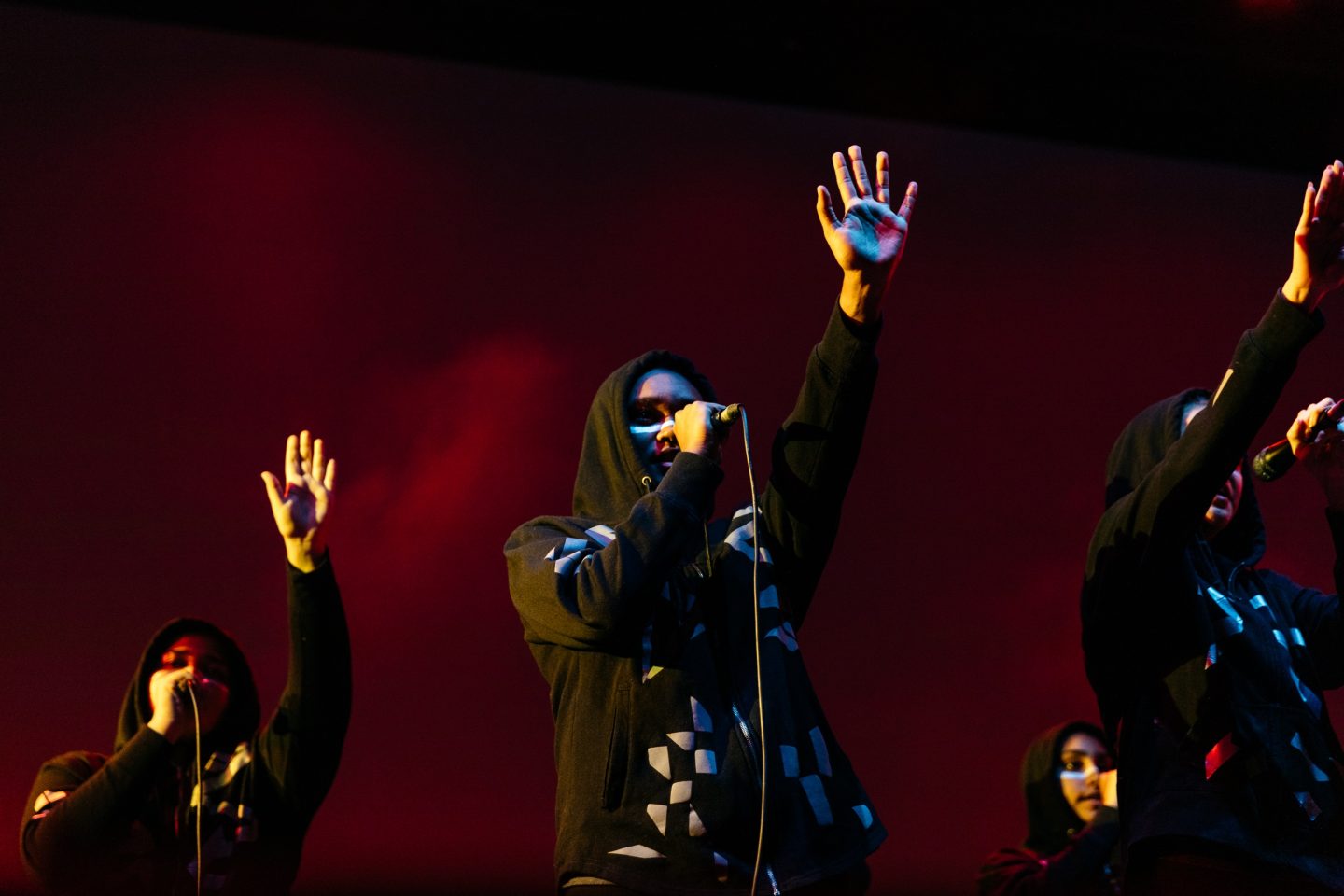 Sunkissed folk singers, a show-stopping work of choral protest from Spinifex Gum and a living legend make the 2020 WOMADelaide festival a memorable one.
The Cat Empire
"It's a real pleasure to be back again," Felix Riebl says as he leads his band through their fifth appearance at the festival. Over two decades the group have established themselves as one of the quintessential WOMADelaide acts, to the extent that describing their set seems almost superfluous. They're the first square on a 'WOMADelaide bingo' card, a genuine product of the international WOMAD circuit, and if they weren't already on the lineup you can bet they would've been the natural choice as a last-minute replacement for Ziggy Marley.
"The whole Port Lincoln crew is here!" a sun–bleached young dude next to me ecstatically tells his friends as the band launch into their first extended horn jam of the night – it certainly won't be the last. Riebl is, as ever, an assured presence on the stage, rocking a leather jacket and white tee that perhaps shoots for classic James Dean style but, thanks to his unabashedly cheesy grin, lands closer to a kind of Chris Martin its-cool-to-be-uncool energy. The crowd love it.
"Music is the language of us all," Riebl sings as the band perform their 2003 track How To Explain, a de facto WOMAD theme song if ever there was one, and I know two things: one of the teens beside me will impulse buy a pair of fisherman's pants before the festival concludes, and The Cat Empire will deliver a night of dancing and horn-blaring, arm-waving revelry. Riebl and co. deliver, of course, but I'll have to keep an eye out for the pants.
Friday, Foundation Stage
---
Kikagaku Moyo
Japanese psych rockers Kikagaku Moyo fill the niche of buzzing 60s inspired psychedelia filled by Kruangbin at last year's festival, but somehow with even more long, flowing hair. As the rhythm section and guitarist fall in line behind a bugged out riff washed out with wah pedals, Ryu Kurosawa begins to shred on a sitar, in an early moment of unexpected border – and ocean – hopping musical fusion that is par for the course at this festival. It's wild. Perhaps it's what Cream fans were expecting for in 1969 when they first heard that George Harrison had co-written a song for the group's final album.
Friday, Stage 7
---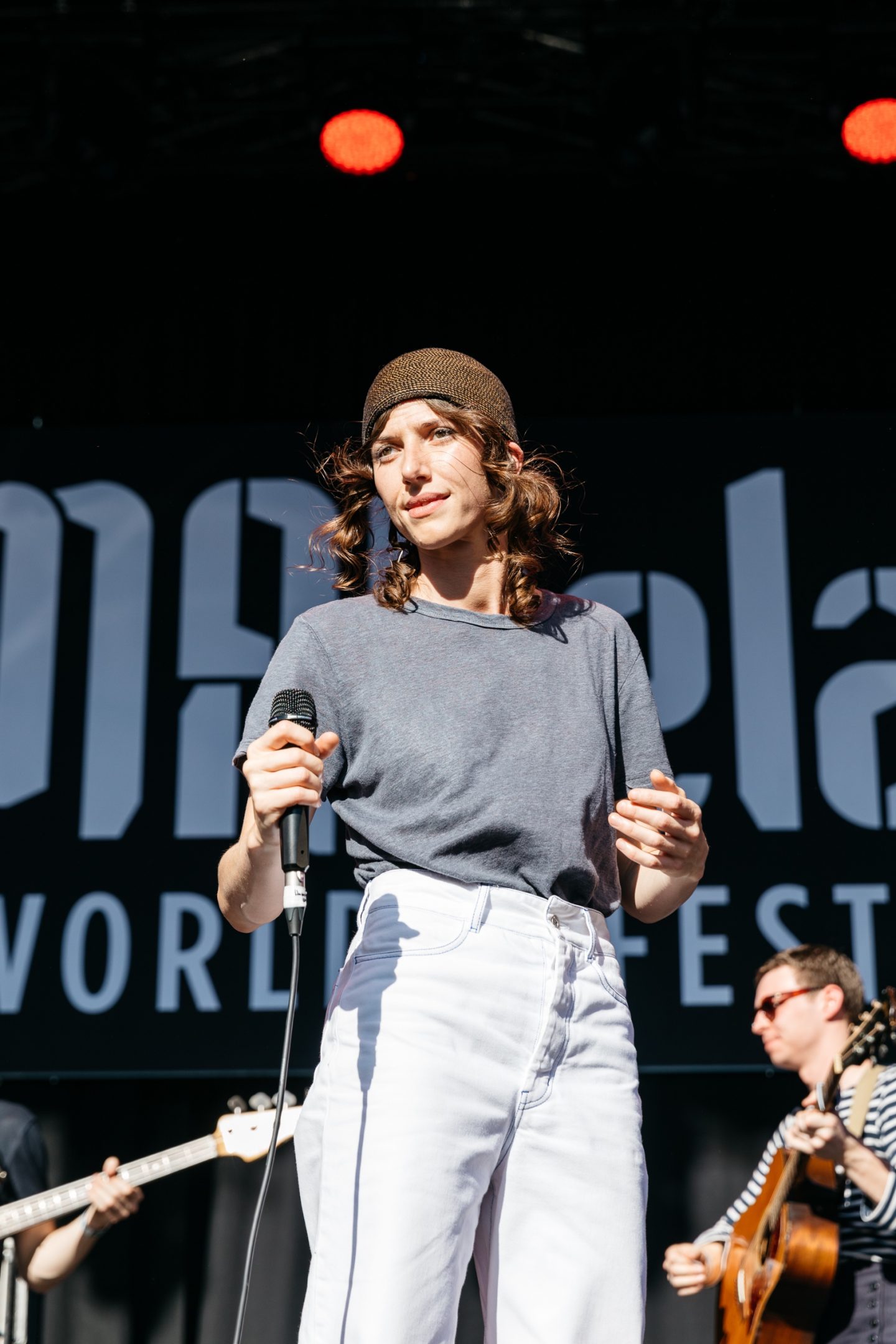 Aldous Harding
In the years since her last Adelaide appearance Kiwi folk singer Aldous Harding has grown simultaneously stranger and more sublime, and has the Saturday afternoon audience utterly transfixed from the moment she steps on stage. At some point between her first and second albums Harding locked on a new kind of stage presence – intense eyes, stilted dance moves, and all manner of expressive facial manipulations – that make for a fascinating contrast against the quiet Nick Drake-visiting-Laurel Canyon folk grooves of her music.
Her stage manner is equal parts inscrutable and intriguing, much like her lyrics, which manage to be both opaque and somehow meaningful ("laughing at good work with your ugly son", she sings to enthusiastic applause on opener Designer). Throughout the set Harding says precisely six words to the audience, who watch with near-silent intensity, punctuated by bursts of excited cheers at an expected gesture or dance move. Unreleased set closer Old Peel evokes The Kinks with its spiralling guitar line from bassist/guitarist Huw Parkinson, as Harding enthusiastically plays a white coffee mug like a cowbell. It might not be everyone's cup of tea, but none of those people are in this crowd.
Saturday, Stage 2
---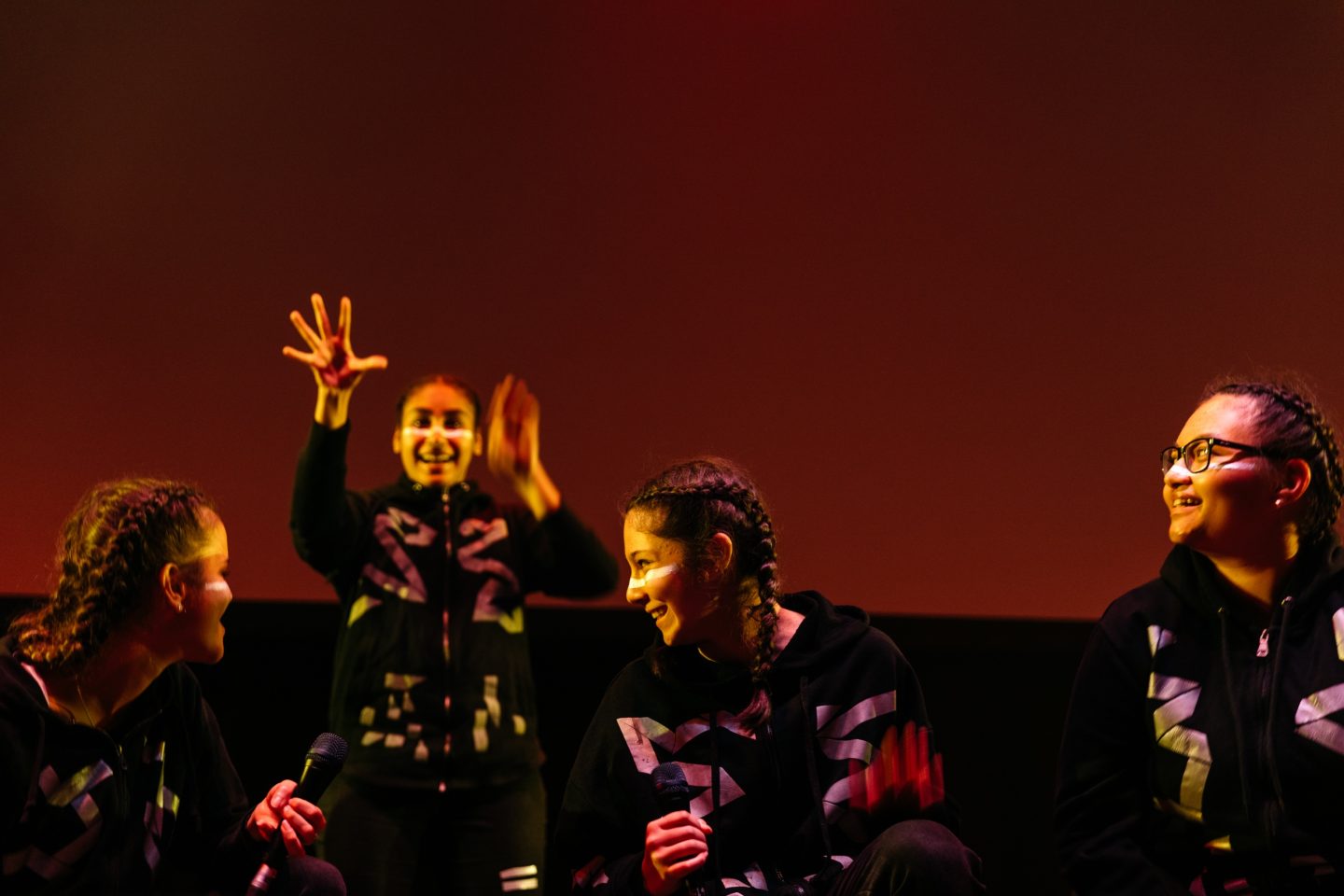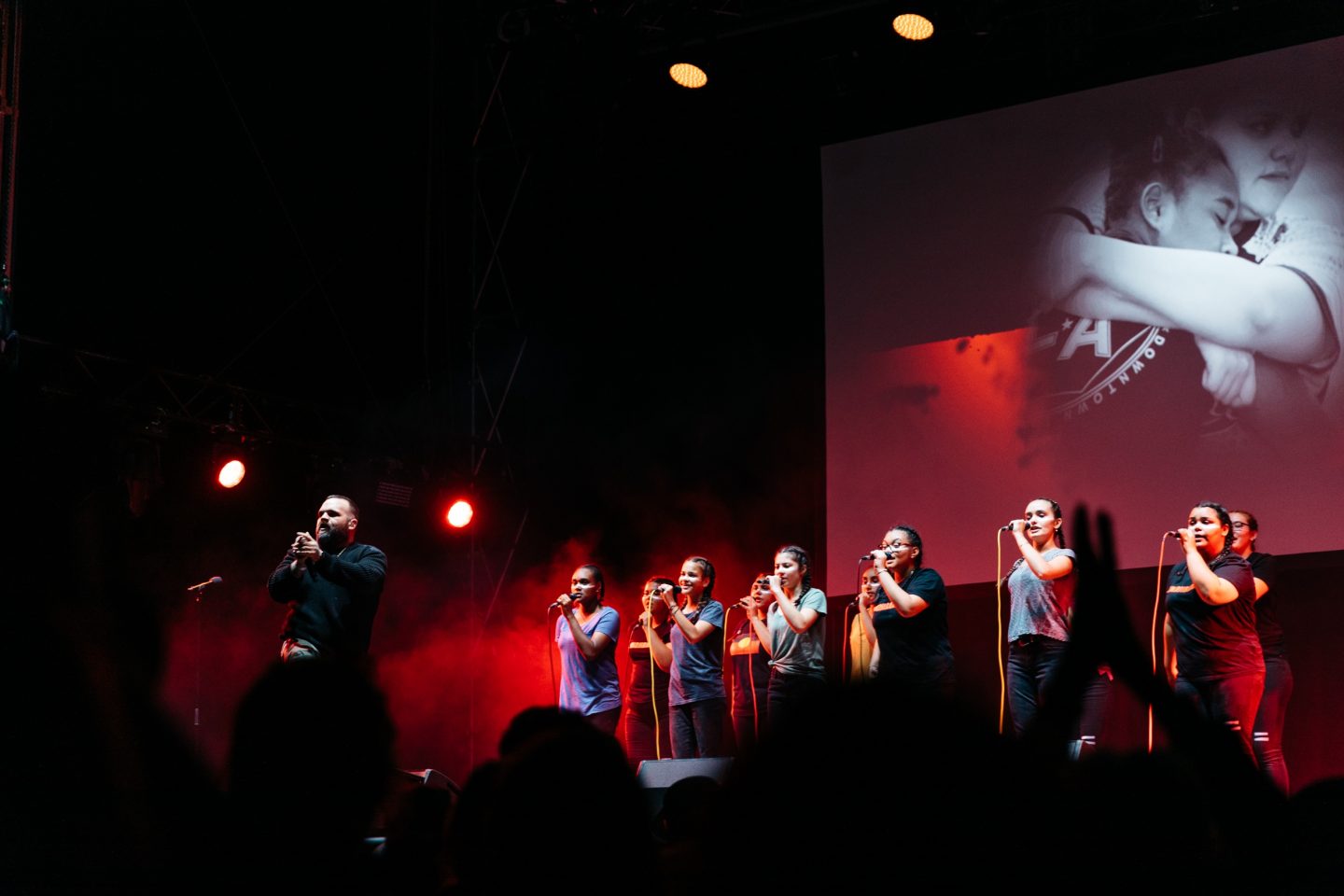 Spinifex Gum
The first local airing of the Spinifex Gum project in 2018 remains one of the most compelling moments of Adelaide Festival's current era. The teen girls of Marliya Choir have grown older, more confident in the intervening years, and although the tension of seeing essentially young children deliver such intense messages is not quite as acute, the songs have lost none of their potency. Indeed, two years of news cycles and failures only underlines how little progress has been made; Ms Dhu now lands with the added weight of Tanya Day, Kumanjayi Walker, of the First Nations women and men still being disproportionately locked top for unpaid fines or being drunk in public.
Likewise Yurala, the catchiest song ever written about land rights, Lang Hangcock and mining in the Pilbara, now evokes various native title battles against Twiggy Forrest, or the Mirning opposition to drilling in the Bight, or Adnyamathanha groups protesting coal gasification in the Cooper Basin, or destroying sacred birthing trees to improve the road between Adelaide and Melbourne.
Tracks from the project's recent second album Sisters add some light to the set, with the triumphant title track and Ready Or Not giving the Marliya girls themselves a moment in the spotlight, and at times it's a necessary respite for the performers and the audience. But while the harmonies are gorgeous, this is not a performance designed to make audiences comfortable. A cameo by Briggs drives the point home on Locked Up, as he compels the crowd up to put their hands in the air between verses about juvenile detention ("treat em like that you just make better criminals"). "If you're not clapping, what are you doing?!" he asks the crowd.
But while the first album cycle was a call to listen, this time there's a clearer action, with the 2019 NAIDOC Week theme Voice Treaty Truth ringing out in the song of the same name as the audience is beckoned to add their support the Uluru Statement from the Heart. Perhaps more pointedly, near the end of Ms Dhu the stage lights turn on the audience as Ribel, in a rare turn onstage, asks "What are you going to do?"
As the crowd claps their hands raw, it's hard to think of a more important, or compelling act, at this festival or any of the others around the city right now.
Saturday, Stage 3
---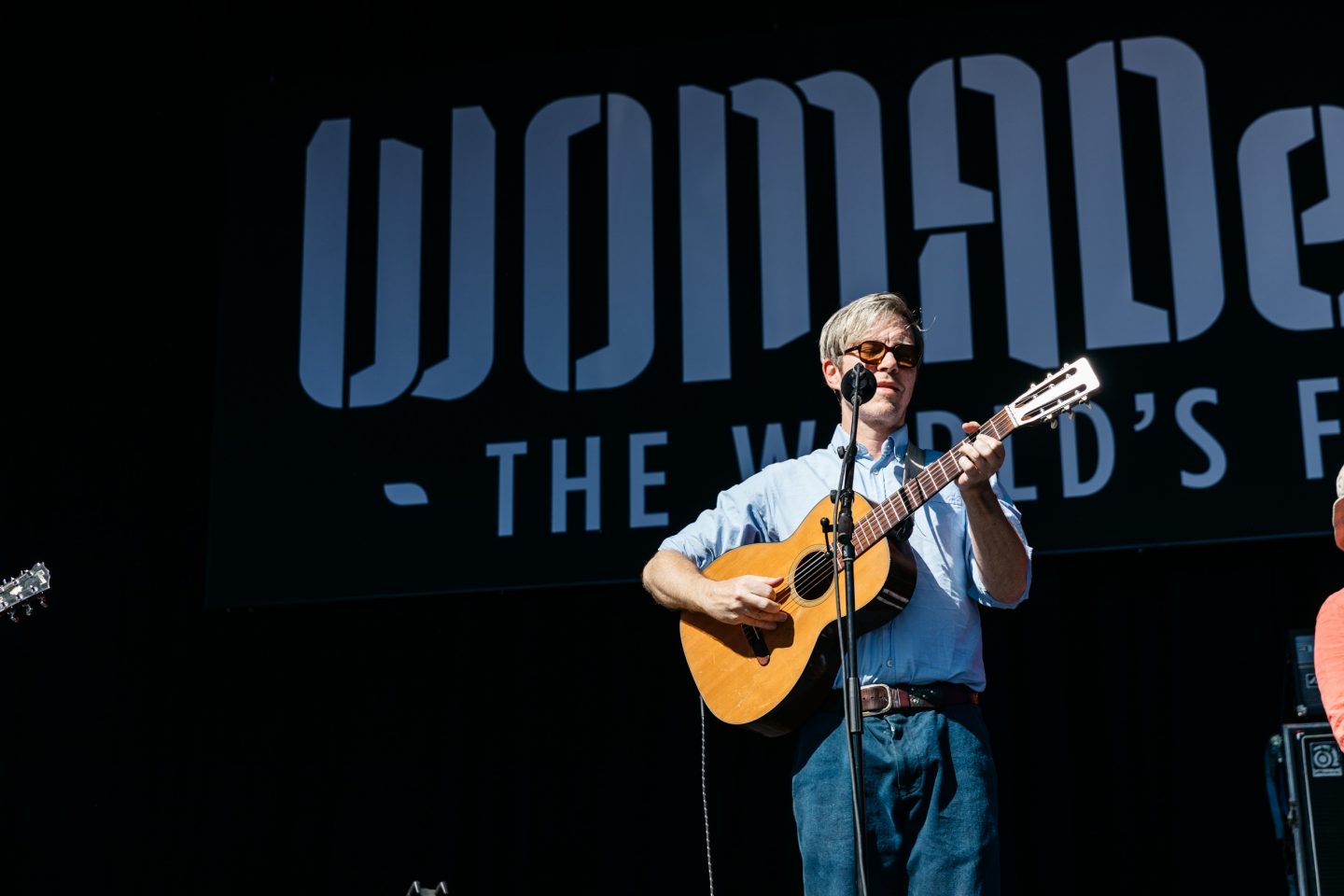 Bill Callahan
"The panic room is now a nursery, renovators renovate endlessly," Callahan sings early in his set, in one of the more domestic tracks from his 2019 comeback Shepherd In A Sheepskin Vest. A deliberately quiet and contemplative record, it's not exactly built for the summer festival circuit. It's a little more robust here with the help of a small folk rock quartet, who add an up tempo drum beat here, a squall of noodling guitar there. They really kick into gear, however, with cuts from his 2011 album Apocalypse, with the jaunty America proffering the somewhat dated but still excellent line about America's cultural domination "I watch David Letterman, in Australia. America!" I'm not even sure if Channel 10 airs Letterman's late night successor Stephen Colbert.
"Should've brought a goddamn hat" Callahan says as he, like Aldous Harding a day earlier, squints eastward into the height of the mid-afternoon sun. One wonders whether it's a subtle act of white privilege-checking to consistently schedule the most melanin-deficient acts of a world music festival at the most sunburn-inducing parts of the program. If it helps to balance the scales of colonisation, I'm here for it. "No… I'm looking more for a Peter Pan kind of thing – I'll settle for Dr Seuss" Callahan says, returning a donated baseball cap to the crowd. Baseball caps aren't having a particularly good moment in America, after all.
Sunday, Stage 2
---
Ngaiire
The energy is noticeably different to Callahan's afternoon nap-friendly Americana over at Stage 7, as Ngairre and her backing vocalists careen across the stage, egging each other on to a big pop beat. Evidently we have found ourselves at the tail-end of the set's party section and the crowd is humming off Ngairre's energy.
She soon shifts gear slightly. "Because it's International Women's Day, this is a song about my grandmother," she says as she introduces the song Shiver. "She was a really strong village woman, she didn't know how to read how to write. My mum asked her, 'didn't she want to learn?' She said 'why?' She was so strong.
To close, the rest of the band leave their instruments and form a line behind Ngaiire to sing Gospel torch song Fall Into Arms. I recall the last time I saw Ngaiire, when she opened for American songwriter Sufjan Stevens and rendered a Thebarton Theatre full of sad-eyed folk lovers absolutely speechless. That kind of response won't stand here, however, as she coaches the crowd in how to sing along, and they do, and it's beautiful.
Sunday, Stage 7
---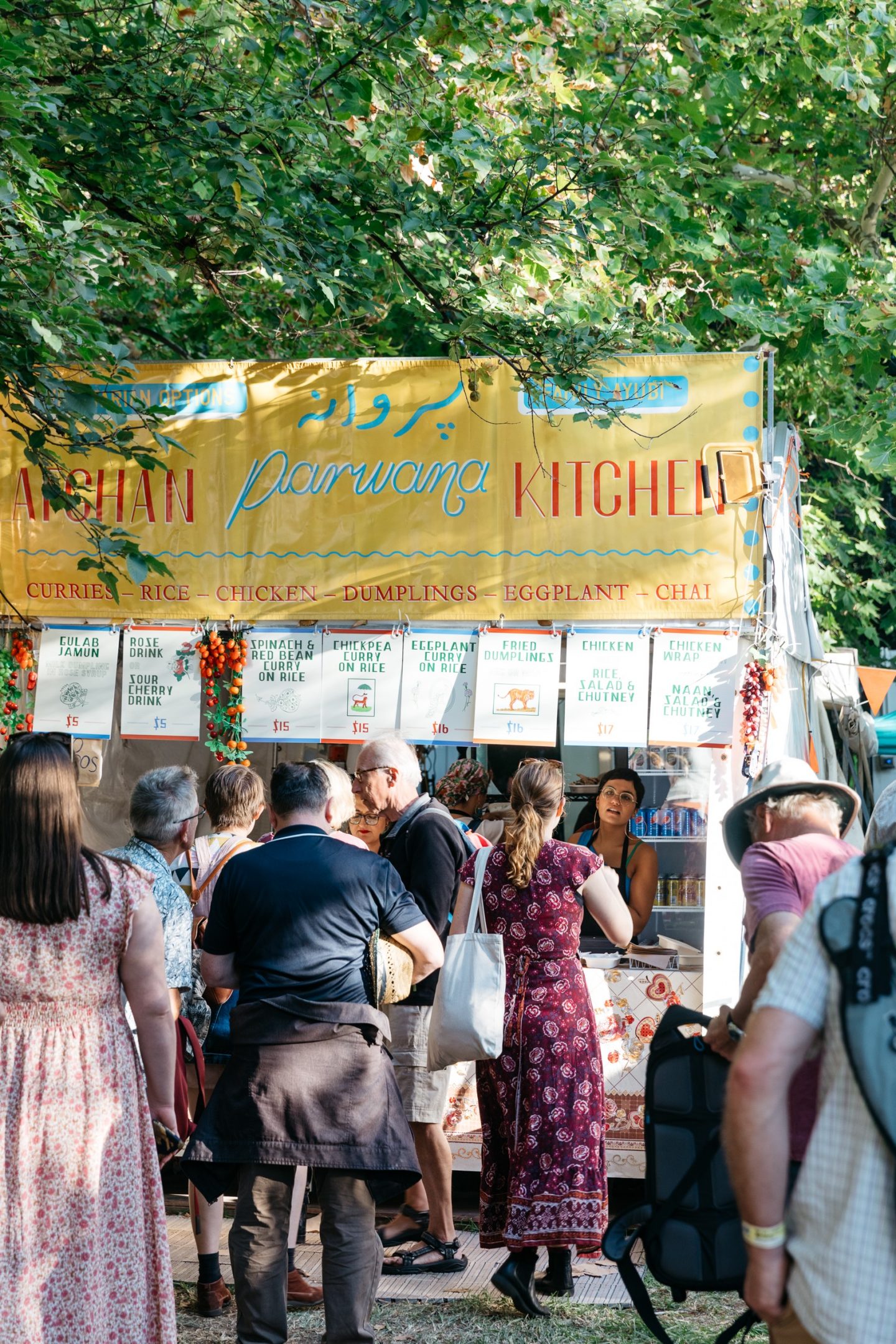 Parwana Afghan Kitchen
The WOMAD food alley is a kind of alternative food universe where some excellent food trucks, like an eclipse, seem to only appear in Adelaide once a year before vanishing interstate. Or, local institutions that are so good you usually find yourself inventing dumb excuses like wanting to celebrate a family member's birthday just to feel worthy of paying them a visit, are suddenly there all weekend ready to sling you eggplant curry at a moment's notice. I, for one, certainly abused this privilege.
---
Hiatus Kaiyote
Hiatus Kaiyote emerge onto Foundation Stage for their first Adelaide show in a good long while. Frontwoman Nai Palm gazes joyfully at the crowd, before pointing out that it's bassist Simon Mavin's birthday. An inevitable singalong of Happy Birthday ensues, giving the poor schmucks in the nearby portaloos a helpful reminder of just how long they should be washing their hands to avoid COVID-19 transmission.
Then, they get into it, and it's clear why the group's work has been famously chopped up and devoured by the world of hip hop; every track is filled with enough breakbeats and stops to fill a sample library. Drummer Perrin Moss' sticks flutter and swing across the hi hat and snare, while the birthday boy's thick baselines slither over fretboard like a python on MDMA. At first it's a little disorienting, the beats so slippery that it's hard to get a foothold, but the crowd soon find their feet.
Palm attempts to get them to clap along to a double-time rock beat. Her faith in the festival audience's ability to keep up with this globally renowned, polyrhythm-blending rhythm section is touching, and very misplaced. But everyone is having too good a time to notice. "This is my favourite fucking festival in the world, so thank you for having us," she says as the group close their set with their signature song Nakamarra. It has been a memorable comeback.
Sunday, Foundation Stage
---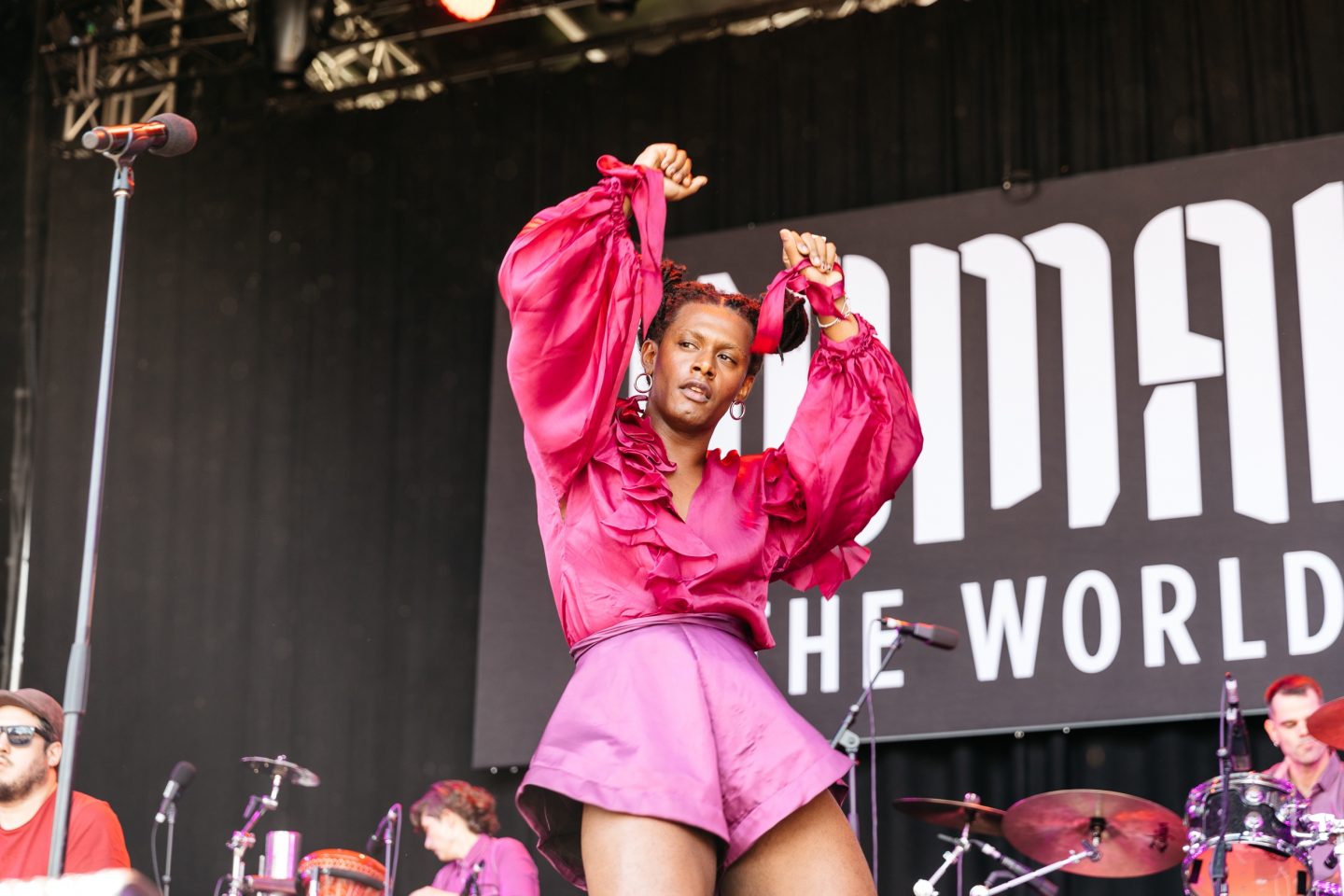 Liniker e os Caramelows
The Monday morning of a four-day-long festival can be a slow starter, but Brazilian vocalist Liniker de Barros Ferreira Campos and her ensemble rev up the crowd like it's a Saturday night. Incidently, Liniker's Saturday performance on the Foundation stage seemed to dominate the Instagram stories of every person I knew, and two days later she brings the same energy as she grooves and whirls across the stage.
The crowd is happy to follow suit as the seven-piece band turn out precisely the kind of globetrotting sound WOMAD audiences adore; it's dirt-stomping, samba-infused dance-funk one minute, sultry equatorial love jams the next as band member Eder Araujo teases out the kinds of saxophone and flute solos designed for that moment in a romantic film when the camera coyly pans to a fireplace or open window. Somewhere George Michael is watching, pleased. "Thank you for all the vibrations here," she says. "The next song is a song about…. you know…" We know.
Monday, Stage 2
---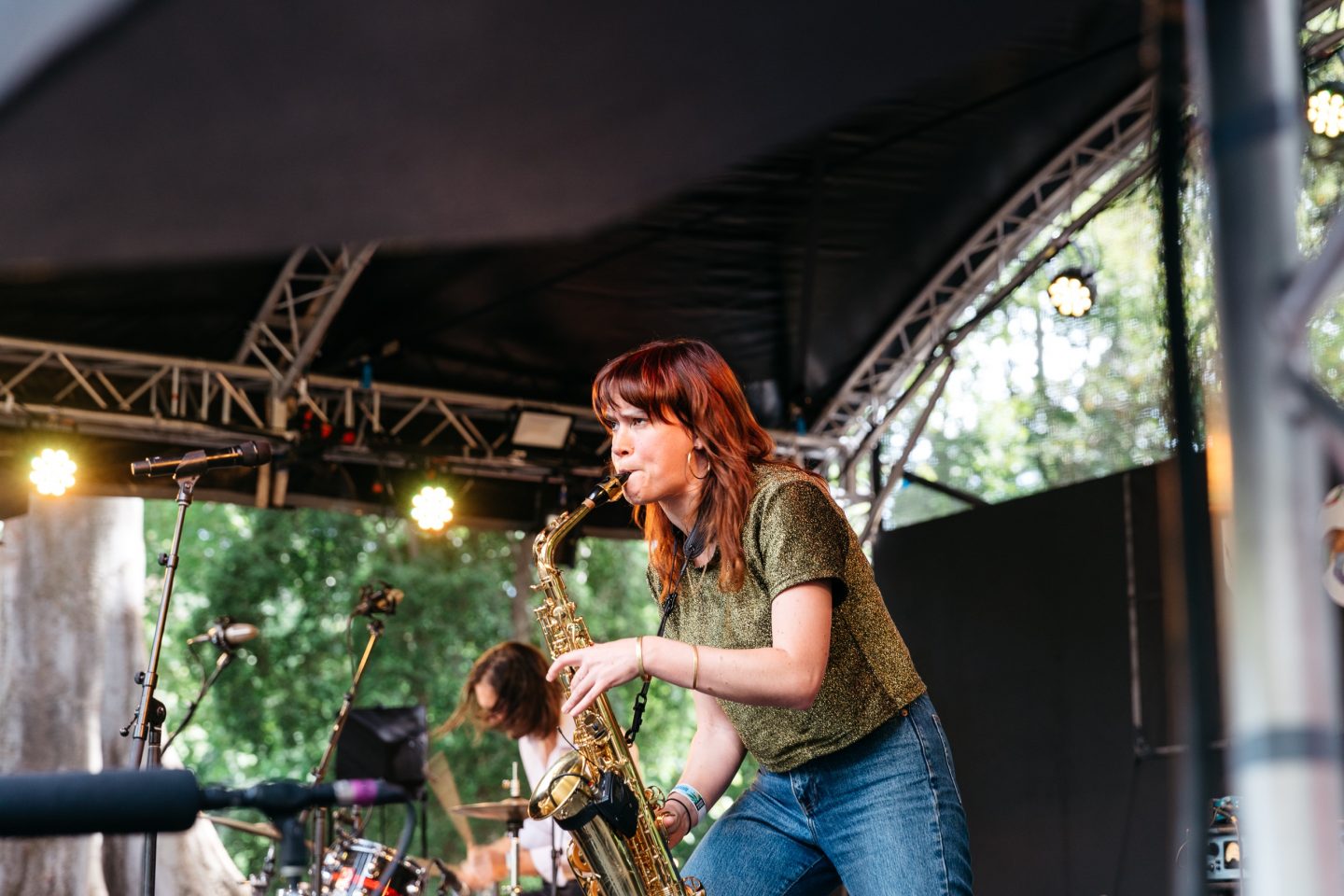 Party Dozen
Although nominally a standing performance, the crowd for Party Dozen's second set of the weekend are largely flopped around the lawns by the Moreton Bay Stage. The Brisbane duo are undeterred, as drummer Jonathan Boulet begins each song by triggering a rumbling, looping synth bassline, before crashing in with a heavy rock beat that channels turn-of-the-millennium industrial sounds.
A world away from the smooth sax style of Araujo earlier in the day, Kirsty Tickle unleashes a cacophony of noise like Lisa Simpson gone rogue. Halfway into their set an enthusiastic and growing band of 12 or so fans have been roused to their feet to indulge in some classic WOMADelaide dancing – you know, with the arms. Finally, it seems, a true party dozen has emerged. Tickle holds the horn of her instrument up to her mouth like a triumphant Viking's toasting victory, and yells, "Yeaaaah".
Sunday, Moreton Bay Stage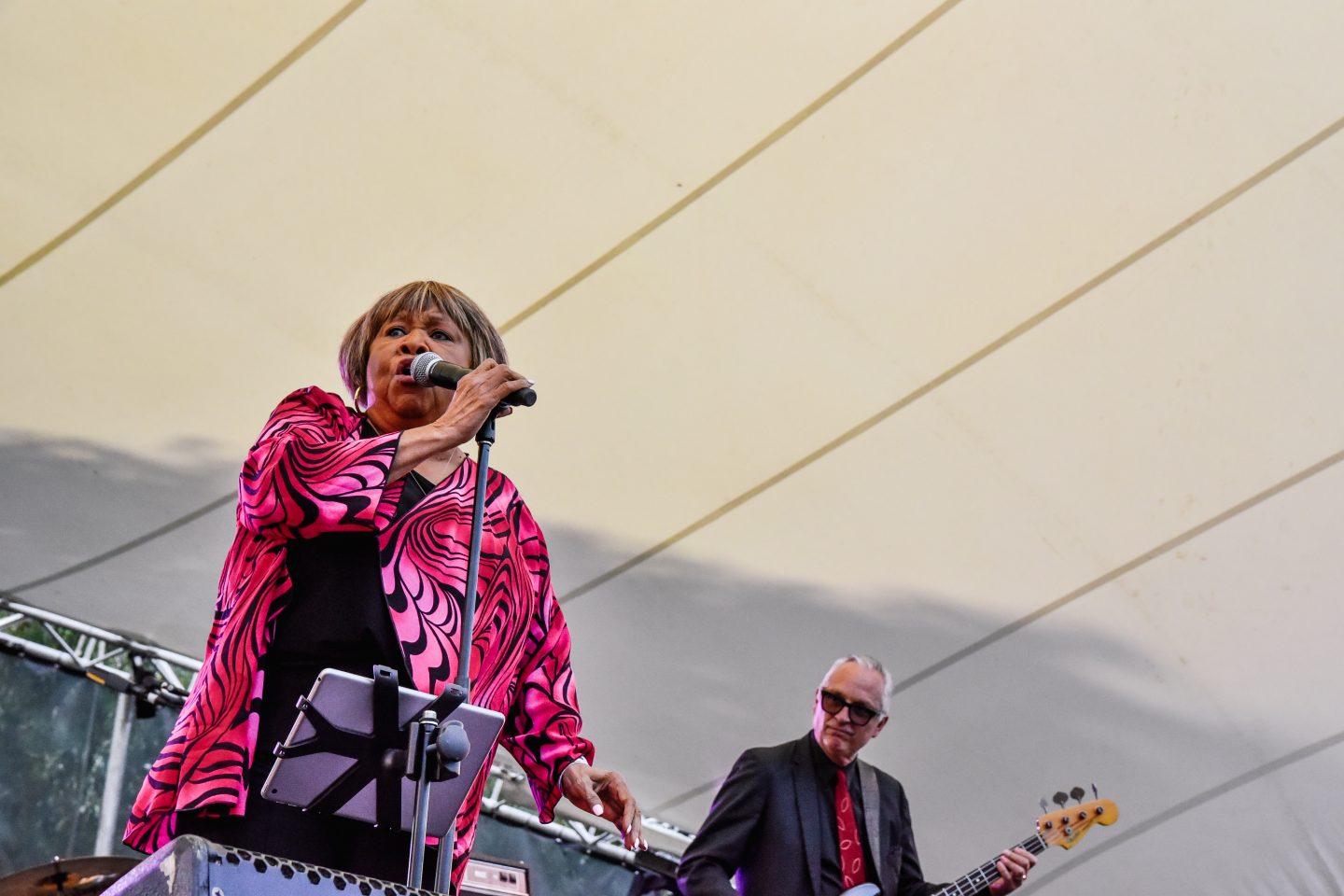 Mavis Staples
"Lemonade! Good evening y'all," the legendary Mavis Staples greets the crowd. "So happy to be back with you, I tell you we've missed you," she says, and you know she means it when she even has an accidental pet name for the city.
She brings tidings, she tells us, from Chicago, the windy city, the "home of the down home blues". She's also brought its music, as she launches into a set that initially leans on her recent albums. There's Build A Bridge, written by Wilco's Jeff Tweedy, and the Ben Harper-penned Brothers and Sisters from the new album he produced for her. She also briefly recalls last year's Talking Heads tribute set from Angelique Kidjo with a cover of 1983's Slippery People.
At 80, Staples' voice has a well-earned grit that brings decades of feeling and attitude to every syllable. Hers is a voice that, with all due respect, has seen some shit, and has sung about it every step of the way. "I marched down the southern highways with Martin Luther King," she reflects in the middle of Freedom Highway. It's a song by Staples' father Pops Staples and first performed with the Staples Singers in 1965, and its presence at the centre of her set drives home just how much can change in one person's lifetime – provided they're willing to hit the streets.
"Georgia, Alabama, Mississippi," she continues, "We'd march and we'd sing. After a while the police came up to us, wanted to know if we had papers, papers to march and sing. They took us to jail…. we'd sit around, and then we got back out of jail, and started all over again!
"I was there, and I'm still here. I'm a witness," she hollers, "and my work is not done yet."
It's a fitting note to round out a weekend marked by difficult conversations about the climate crisis, inequality and social progress happening around the park, and a salient reminder that we can always do better – and that it often helps to have the right soundtrack.
Sunday, Foundation Stage
WOMADelaide 2020
Botanic Park
6 – 9 March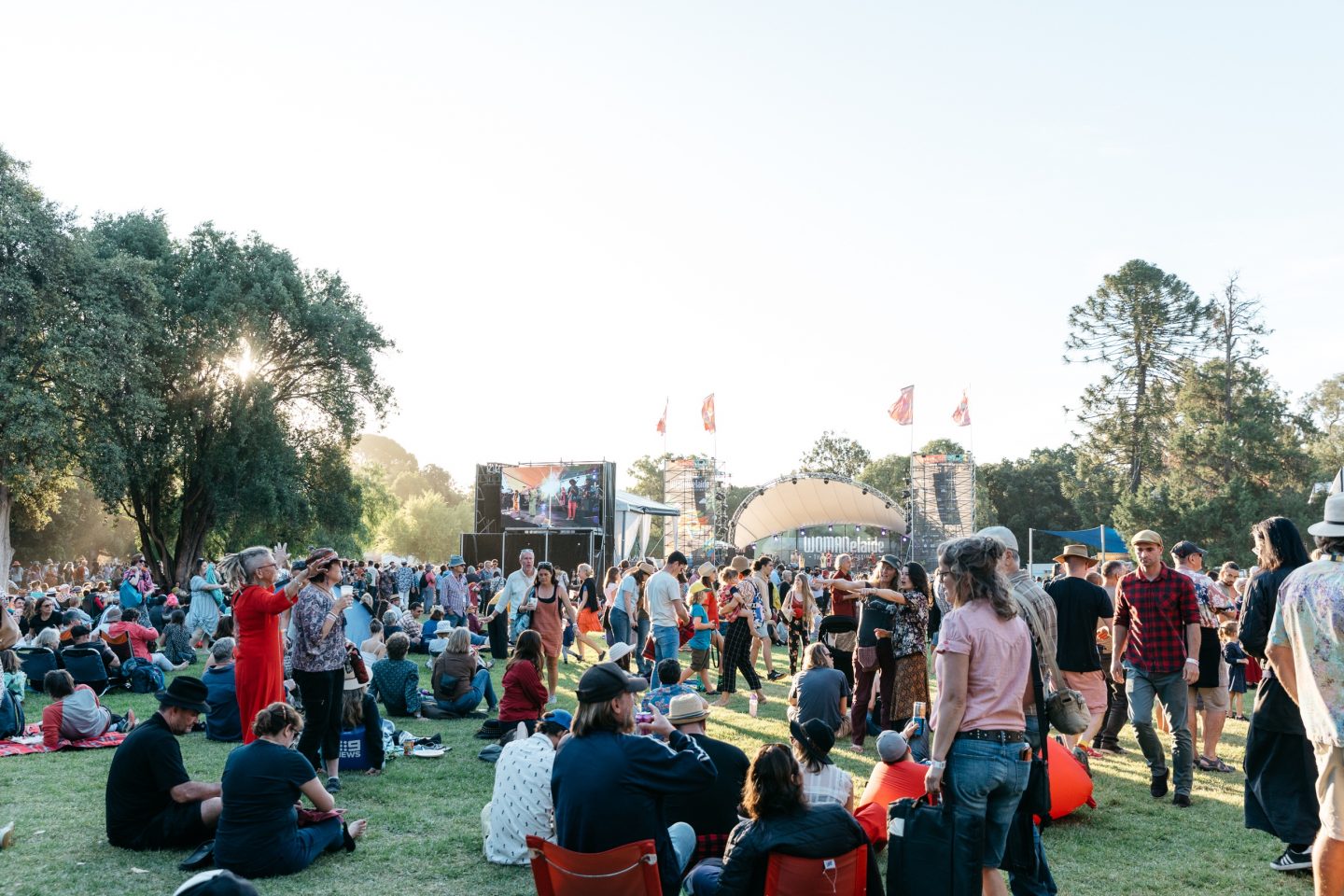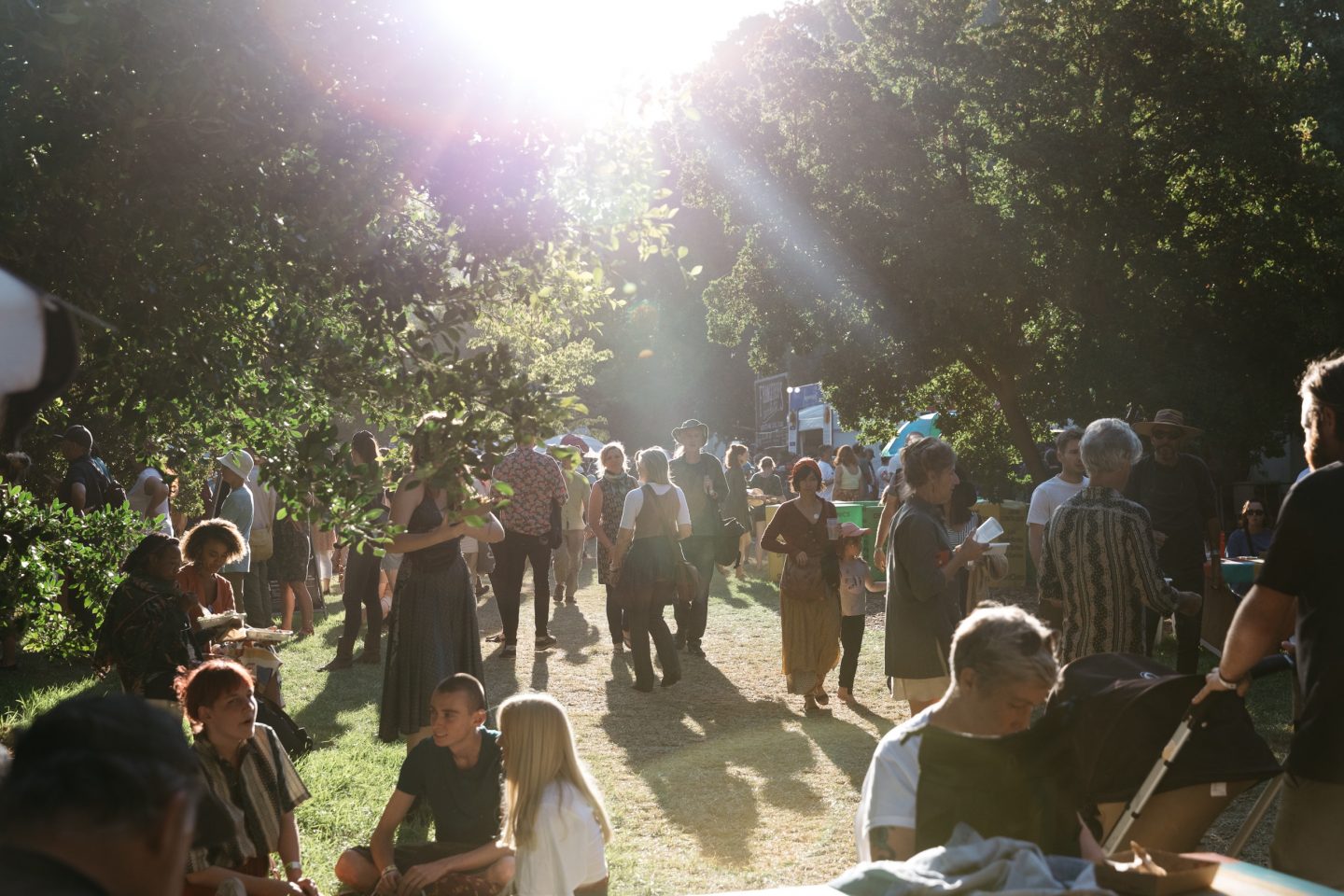 Walter is a writer, editor and broadcaster living on Kaurna Country.
Get the latest from The Adelaide Review in your inbox
Get the latest from The Adelaide Review in your inbox