Julia Gillard:
'Getting put on a pedestal is a mug's game'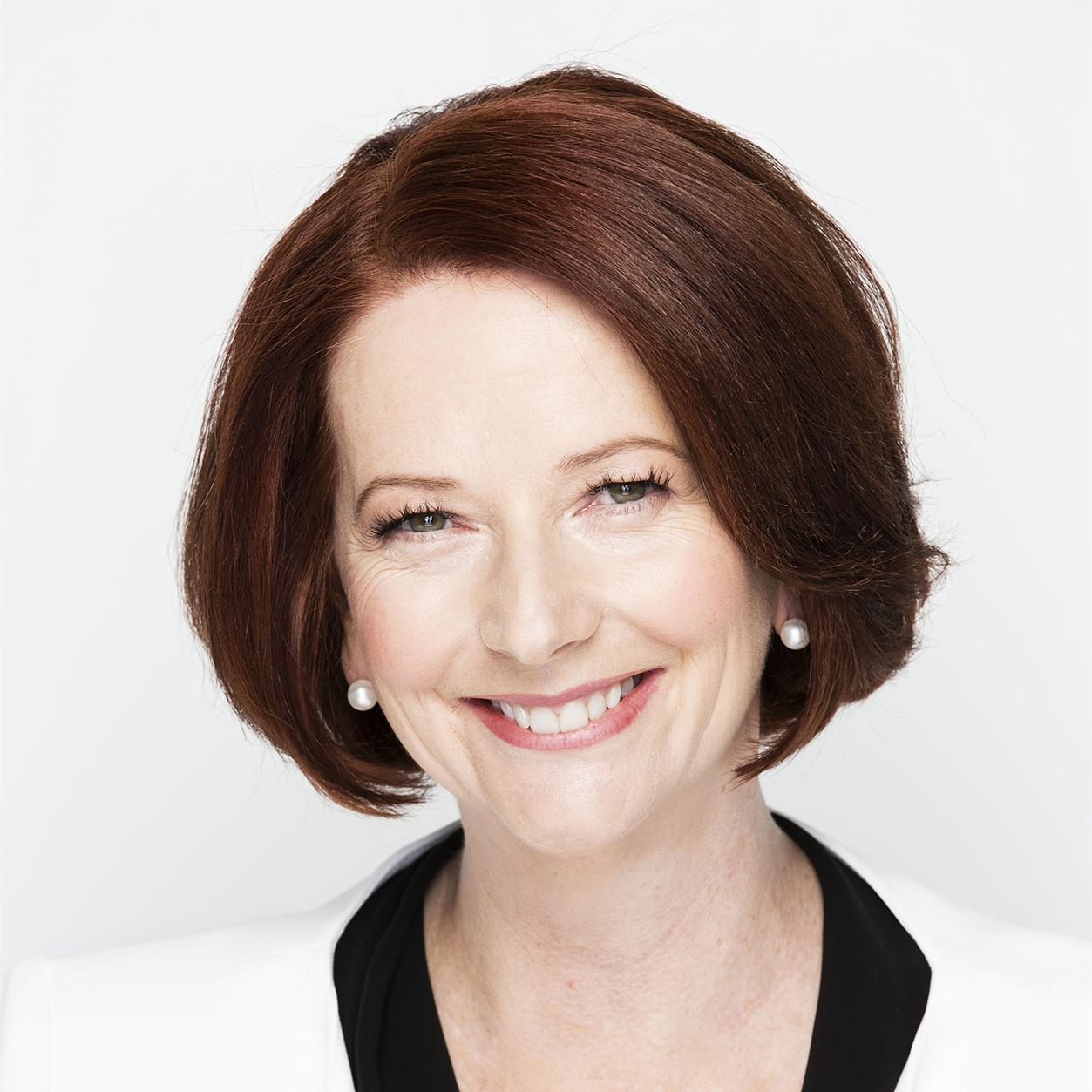 When Julia Gillard began her short but intense prime ministership a decade ago, she was wary of letting the gendered treatment she received from the media, public and parliament define her leadership. Interviewing a series of current and former world leaders has shown her it was perhaps inevitable.
Many of the book's eight 'hypotheses' are inextricably framed by Gillard's own experiences, but it also tries to sketch out a broader framework. It turns out there is a dearth of comparative research mapping the ways women in political leadership roles experience gendered treatment – a by-product of the small sample size available when so few women reach the top of their country's political systems.
"At a basic level, I and many women would have the experience where something happens and in your head the question is posed: 'is that because I'm a woman, or is it me?' And getting to talk to those eight women leaders, and getting to talk to my co-author Ngozi, it helped answer a series of questions in my own head about how much you have in common with the experiences of other women. So it's not just about you, it's about women's experiences generally."
One of the more insidious features of patriarchy is how women's credibility when describing their own experience of sexism, harassment and abuse is eroded and denied. As women everywhere from local arts communities to the High Court of Australia turn to informal networks to validate each other's testimony and give shape to rarely-acknowledged systemic problems, it's bleak but perhaps not surprising that even those who have led nations find themselves having to compare notes.
Which isn't to say that Gillard didn't immediately notice the ways she was treated differently to the 26 men who preceded her as Prime Minister. But, even a decade ago, it was difficult to know how calling it out would be received.
"I thought it possibly wasn't necessary," she recalls. "Which was even more naïve in some ways; I thought it was just so obvious I was the first woman to be prime minister, I didn't need to point that out, and I thought the maximum reaction to me being the first woman would play itself out early in my prime ministership, and then things would normalise."
Worse, Gillard suspected drawing attention to gendered treatment early in her leadership might invite more drawn-out sexism – something that happened anyway.
"With the benefit of hindsight, I can see that it didn't normalise, it got worse," she says, alluding to the example of Women and Leadership interviewee Jacinda Ardern, whose critique of questions around her motherhood plans on the 2017 campaign trail helped draw a line in the sand early in her leadership.
"We can't change the past, but we can change the future," Gillard says. "And what's the lesson we can take from that? Don't assume that this is a self-correcting world where things just necessarily get better. It requires positive action and thought, and often the earlier you act on these questions of gendered treatment the more powerful it will be."
After two years of not commenting, Gillard stopped being silent in an October 2012 parliamentary exchange now popularly remembered as the 'Misogyny Speech'. It's almost fitting that Gillard's 14-minute rebuke of opposition leader Tony Abbott would become her big, viral feminist rallying point, born as it was of her determination to find a way to thrive within the chest-beating adversarialism – and some would say aggressively macho environment – of question time.
"You're right to say there is some irony that the most iconic moment of my time as prime minster comes out of that very adversarial place that many feminists would want to deconstruct – not in the sense of not having democracy, but deconstruct some of the norms and ways of working," she reflects.
"But the speech wouldn't still be resonating with young women unless in their day-to-day engagements with the world they didn't feel the need to sometimes pump themselves up for the struggle."
June marked the 10th anniversary of Gillard's rise to the top job, and with many of her government's key achievements methodically dismantled by her successors perhaps it's little surprise that the observations of the 'Misogyny Speech' have become one of her best-remembered legacies.
But if her recent return to the media spotlight, with a book that builds on that legacy, has invited fresh interrogation of her feminist record in government (faintly echoing the critiques she once received from those more progressive university comrades), Gillard makes an interesting but perhaps less Tik Tok-friendly point about the realities of equality in leadership.
"We've got to be careful we don't bake the sexism in by holding women to a higher standard as political leaders," she says, referencing the book's penultimate hypothesis that compares politics to a "modern-day Salem". "In making that statement I know a lot of people in a lot of countries around the world would look at their leaders of their nations and say 'I wish we had someone better than this'. So I'm not trying to dissuade voters from aiming high in terms of the quality of political leaders, we should be aiming high. But in aiming high, we shouldn't put an extra burden on women – we use this phrase in the book: politicians aren't saints.
"Every politician is going to make errors, women are going to make errors, women are going to sometimes make decisions that other women and men are critical of. Women are sometimes going to make decisions that other women and other feminists think aren't right. That is inevitable because people are human. [Democracy's] not a perfect instrument, and we've got to accept intellectually and emotionally that equality in leadership means an equal chance to do it well and sometimes to do it badly.
"I was conscious when I was younger in politics, [that] because there were so few women coming through to the top, to senior ministries, there was a tendency to put a woman on a pedestal as she came through. The problem with being on a pedestal, the problem with being 'the golden girl', is when you do something wrong it's a hell of a long way to fall. I watched that cycle with people like Cheryl Kernot, people like Carmel Lawrence, and I always thought to myself, this getting put on a pedestal is a mug's game – you don't want that to happen to you.
"I don't want that for myself – and I don't want to be the one who gives that extra burden to other women."
Women and Leadership: Real Lives, Real Lessons is out now through Vintage Books
Walter is a writer, editor and broadcaster living on Kaurna Country.
Get the latest from The Adelaide Review in your inbox
Get the latest from The Adelaide Review in your inbox